2018 3rd International Conference on
Electrical Engineering, Mechanical Engineering and Automation
May 29-31, 2018
Hangzhou, China
Submission:

Jan. 20, 2018




(Extended to Apr. 20, 2018)

Notification:

20-40 days after the submission

Publication:

15-20 days after the final edition

Conference:

May 29-31, 2018
The conference accepts English and Chinese articles.
The information about the Keynote Speakers of ICEEMEA2018 are as follows, which will be updated regularly.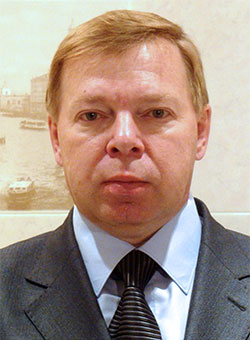 Dr. Andrey V. Brazhnikov, Professor
Department of Electrical Engineering, Siberian Federal University, Russia
Biography: Dr. Andrey V. Brazhnikov was born in 1959 in Kostroma, Russia. He had his graduation in Electrical Engineering from Krasnoyarsk Polytechnic Institute (Krasnoyarsk, Russia) in 1982 (major in Automatics and Telemechanics, Honors Degree). He received PhD degree in Electromechanics from Tomsk Polytechnic Institute (Tomsk, Russia) in 1985. He is presently an Expert of Russian State Science Foundation (Moscow, Russia), a Doctor Honoris Causa of International Academy of Natural History (Germany), a Professor of Russian Academy of Natural History (Moscow, Russia) and an Associate Professor of Siberian Federal University, Department of Electrical Engineering (Krasnoyarsk, Russia). Now he has more than 200 published scientific works and inventions in the fields of electric machines, electric drives, renewable energy, hydromechanics, aeromechanics, mathematics, theoretical physics, philosophy, etc. His research papers and other works were published in the USA, China, Germany, Japan, South Korea, the Netherlands, Australia, Italy, Great Britain, India, Poland, Bulgaria, Ukraine, and Russia. During period from 1998 till 2018 his biography was included in more than 60 biographical editions published by American Biographical Institute (USA) and International Biographical Centre (Cambridge, England). During 2016 and 2017 he had took part in a few International Scientific Conferences in China as the Chair and a Keynote Speaker.
Topic: Potentials, Design Peculiarities and Advantages of Non-Traditional Controlled Multiphase Inverter-Fed Asynchronous Drives
Abstract: Until recently it was considered that the main advantages of the multiphase asynchronous drives over the 3-phase ones are an opportunity for expansion of motor speed regulation range down from the nominal speed value, an opportunity for the decrease of mass-and-overall dimensions of the filter in the input circuit of a voltage inverter, the decrease of the electrical losses in an induction motor rotor circuit and some others.
However the results of the investigations made by the author show that the multiphase systems "voltage (or current) inverter - asynchronous motor (linear or non-linear)" have more considerable advantages over the 3-phase ones, which are caused by their greater control potentialities in comparison with the 3-phase drives (i.e. if the phase number is more than four, some non-traditional control modes can be used in the drive system).
The non-traditional controlled multiphase (i.e. having the phase number more than four) inverter-fed asynchronous motor drives have great prospects for the use that are explained by more extensive control potentials and advantages of such drives in comparison with the three-phase analogous systems. In particular, the increase (more than four) of the inverter-fed asynchronous motor phase number in complex with the use of such non-traditional method of the motor control as over-phase method allows to develop and create linear drive systems having novel properties and improved technical-and-economic characteristics (for example, greater drive system speed of response, less motor mass-and-overall dimensions, possibility to increase the motor movable secondary element motion speed over its synchronous value, etc.).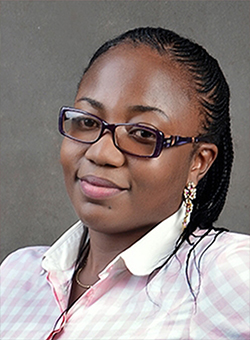 Dr. Aderonke Oluwaseunfunmi Akinwumi
Department of Electronic and Electrical Engineering, Faculty of Technology, Obafemi Awolowo University, Nigeria
Biography: Dr. Aderonke Oluwaseunfunmi Akinwumi was born in March 8, 1984. She had B.Sc. and M.Sc. Honors in Electronic and Electrical Engineering in 2008 and 2013 respectively with PhD in same field in view from Obafemi Awolowo University, Ile-Ife, Nigeria. She has worked as Substation/Field Engineer and Power System Planning Engineer in the Division of Works and Maintenance Services of Obafemi Awolowo University, Ile-Ife Nigeria between 2008 and 2016. Dr. Aderonke specializes in distribution system reliability improvement through automatic fault diagnoses and reporting methods. She has rich experience in Automation Incorporation into Contemporary Distribution Network as a way of advancing the distribution network for Smart Grid Future. From 2016 till date, she works as a lecturer in the Department of Electronic and Electrical Engineering, Obafemi Awolowo University where the knowledge and wealth of experience gathered as a field engineer is being used to teach and mentor young engineers.
Dr. Aderonke is also a registered engineer with the Council for the Regulation of Engineering in Nigeria (COREN), a corporate member of The Nigeria Society of Engineers (NSE), a member of the Nigeria Institute of Electrical and Electronic Engineers (NIEEE) and a member of the largest engineering professional body IEEE.
Topic: Development of a Method of Improving the Reliability of Low Voltage Distribution Supply Network
Abstract: This paper presents results of studies of the impacts of substation monitoring on reliability indices of distribution systems. It was detected that the fault detecting and repair time was the main cause of the prolonged outages experienced in the system which increases the poor reliability indices of the system. The intelligent substation monitoring device developed was able to detect open circuit faults and relay to the base station in about 30 seconds compared with 3 to 24 hours or more it was taking to detect fault. The substation monitoring is executed by means of an intelligent terminal unit (ITU) that detects faults and outages at the substation and reports these within sixty (60) seconds to the substation engineering unit. The operation of the intelligent substation monitoring consists of system monitoring, fault detection and fault reporting. For system monitoring and fault detection, the system compares the voltage and current status with preset expected values and any deviation beyond present percentage is considered a fault condition. When a fault is detected, the system relays the fault condition to the substation through the communication unit (GSM in this case). The intelligent substation monitoring device developed reduced the fault detection time significantly hence improves the reliability of distribution systems. The system was simulated and result showed that SAIDI was reduced from 244 hours of outage per annum to just 98 hours of outage per annum while CAIDI was improved from 10 hours of interruption per outage to 5 hours of interruption per outage. This paper demonstrated that the fault detection and reporting time can be greatly reduced by the use of intelligent monitoring system and reliability indices were improved.
Copyright © 2016-2018 3rd International Conference on Electrical Engineering, Mechanical Engineering and Automation - All rights reserved.